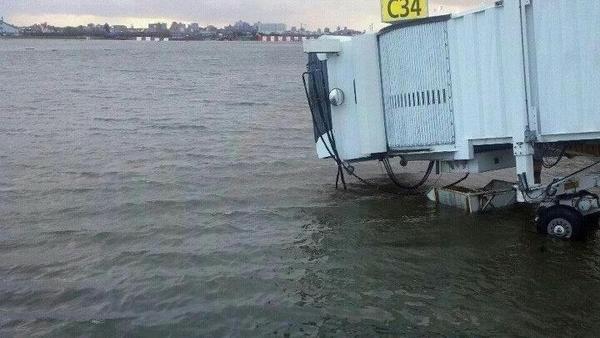 LaGuardia Airport as tweeted by JetBlue
In Morningside Heights we were fortunately spared much of Sandy's destructive path. However, the storm has wrecked havoc on New York City's transportation infrastructure, which may complicate people's fall break plans. Here is the current information on getting in and out of the city. The New York Times is keeping track of closings via their Interactive Tracker.
In general, if you really want to get somewhere soon, taking a bus is your best option. MTA buses are on a full schedule without charging fare all day. Buses in and out of the city also promise to be running soonest and most reliably.
UPDATE: Subways expect to be running with limited service tomorrow. The 1 train should be running locally between 42nd Street and 242nd Street.
Airports
Many flights from New York and Newark have been suspended or cancelled, and the situation around Fall break will hopefully become clearer within a few days. LaGuardia Airport is closed with no foreseeable reopening date, and probably has received the most extensive damage of the three airports in the area. Planes started landing at John F. Kennedy Airport last night, and the airport currently has limited service. Newark Airport also has limited service today. AirTran is closed until further notice.
Driving and Cabbing
All bridges to Manhattan, and the Lincoln Tunnel are open. However the Holland Tunnel, Queens Midtown Tunnel, Brooklyn Battery Tunnel and the bridges to the Rockaways are closed.
Commuter Transit
MetroNorth trains, Long Island Rail Road, PATH and NJ Transit are all closed until further notice.
Amtrak
Service is being restored from Newark to points south. However Amtrak is unsure of when service from New York Penn Station will resume due to flooding. More details about Amtrak can be found here.
Buses
While MTA buses are running free of charge, BoltBus is not running today in or out of New York City, and will have determined Thursday operations by 1pm today. Megabus has more detailed information about route closings here.
Image from JetBlue.